​Missing teeth affect your ability to chew,
enunciate, and smile confidently.
Tooth loss can also lead to bone recession
and changes to your facial structure.
Dr. Douglas Pohl in Fort Walton Beach, FL,
provides dentures that restore dental function
and improve the appearance of your smile.
We offer dentures for virtually every need...
We Have the Solution for You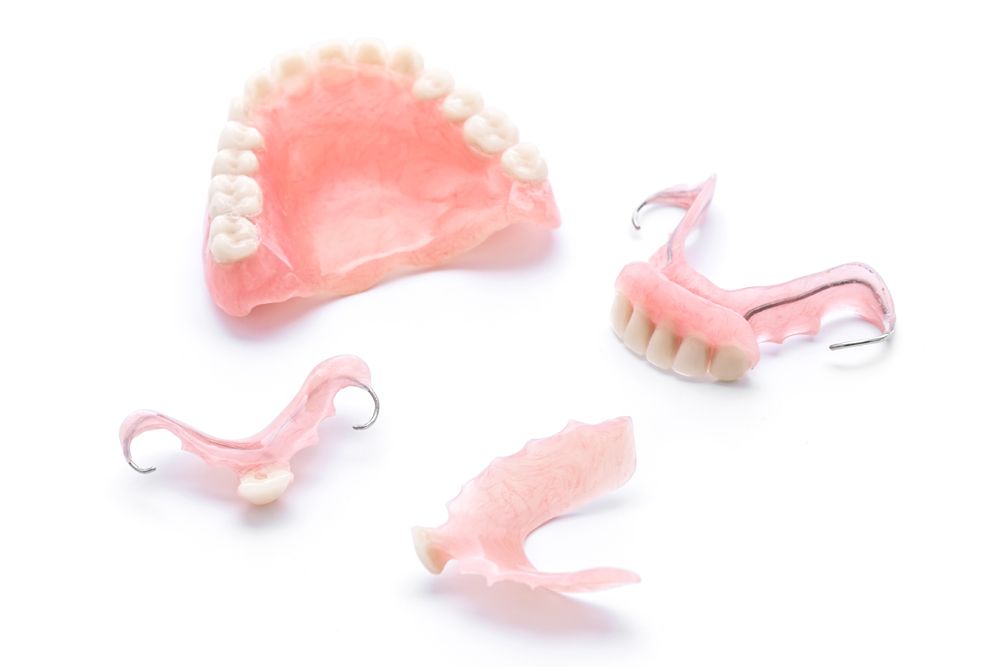 With proper at-home care and regular dental checkups, most patients can expect their restorations to last for several years. Although traditional prosthetics are highly durable, your gums and jawbone will change over time, and your dentures may not fit as comfortably or securely as they originally had. For this reason, we recommend replacing them as soon as you detect changes in your bone structure. If your restoration breaks but still fits well, Dr. Pohl can also perform same-day repair at his Fort Walton Beach, FL, office.
Meanwhile, you can expect that your partial or full-arch dental restoration will be crafted to look virtually indistinguishable from natural teeth. Your smile is a major part of your appearance and your self-esteem, and Dr. Pohl will work closely with our partner lab to make certain that your restorations help you feel confident when you smile.
Partial Dentures
One of Three Great Options Addressing Tooth Loss
Many dental patients do not know that partial dentures are an option if they are missing only some of their teeth.
If you need to replace an arch of teeth with a restoration that blends in with your smile, partial dentures may provide the solution. For those missing just one to three teeth, dental bridges may be preferable. Finally, if you are missing just one tooth, a dental implant with a crown may restore your smile.
Dr. Pohl, our dentist, can guide you through the possibilities that partial dentures, implants, and dental bridges have to offer at your consultation.
"He's the Best and So Is His Staff"
We've been going to Dr Pohl for almost 30 years and wouldn't go anywhere else. My kids grew up going to him, are in their mid 20s now and live away from home. They will fly in for their cleanings because they trust him completely. He's the best and so is his staff!

Shirley Taylor, 5-Star Google Review
Trust Your Smile to a Leading Local Dentist
Have you lost some or all of your natural teeth? Do not let missing teeth continue to impact your overall quality of life. Dr. Pohl is a dentist who can design custom replacement teeth that complement your features, repair your smile, and provide an exciting boost in self-confidence.
If you are tired of suffering with a compromised smile, get in touch with our Fort Walton Beach, FL, office today. We are happy to treat patients from Pensacola, Destin, and all surrounding areas.
To schedule a dental consultation, contact us online or call
Creating Your Custom Dentures
Traditional Dentures
During your initial consultation at his Fort Walton Beach, FL, dental office, Dr. Pohl will assess your oral health and determine whether you require any preliminary procedures. He can then take impressions of your smile to send to an offsite lab, where your restorations will be created over the next three to four weeks. A patient visiting our office for dentures typically sees Dr. Pohl over the course of five appointments, which cover:
First impressions
Second impressions
Custom trays
Bite and shade
Fittings
In some cases, complete dentures and other restorations can be fabricated and ready for placement in as little as three weeks from your initial appointment.
Implant-Supported Dentures
If you are receiving an implant-supported restoration, you must first undergo dental implant surgery. We work with the area's finest oral surgeons, who can place titanium implants through your gums and into your jawbone.
After your procedure, you will continue wearing your current denture and will typically have to wait three to six months for your gums and jaw to fully heal.
After healing is complete, abutments, or connector pieces, will be attached to the top of the implants. Then your restoration will be converted so that it can easily snap into place over the implants. Sedation dentistry is available at every step to help you feel comfortable under our care. Just let our dentist know how he can help you feel more at-ease during your visit, and we will do everything we can to accommodate you.
"I Have Never Had Anything Other Than a Good Experience"
I have never had anything other than a good experience when visiting their office. Everyone who works there is professional, kind, and considerate. I would recommend Dr. Pohl to anyone. He always takes the time to listen, discuss whatever issues you are having, and find a solution.

JoAnn Labermeyer, 5-Star Google Review
Although the cost of your treatment will vary depending on the materials used and the extent of your oral health concerns, each full prosthetic arch starts at approximately $1,500. Patients receiving full upper and lower dentures can expect their new prosthetics to cost about $3,000. We can review your unique needs and provide a more detailed and accurate estimate during your private consultation. We accept most insurance plans, and most providers will contribute to at least a portion of the cost of dentures.
However, it is important to understand that your plan will probably only cover the most affordable and practical options. Premium materials and dental implants will involve out-of-pocket expenses. Fortunately, we can help you secure financing through CareCredit®, a leading third-party lender. With CareCredit, you can make low-interest and interest-free payments, depending on your credit score. During your consultation, we will gladly explain your options and help you budget for the solution and care you need.
Pick a Dental Team
That Truly Cares for All Its Patients

Our teeth impact many aspects of our lives, like talking, eating, and smiling. We all want to feel confident in our smiles, but if seeing the dentist worries us, we may put off necessary dental work.
At our dental practice, we want to ensure that we earn all our patients' trust, again and again. That way, if they ever need help, they will feel at ease knowing that we're here waiting for them.
From routine cleanings to dentures, our dentist, Dr. Pohl, can give you a happy, healthy smile. You can contact our Fort Walton Beach office to begin or call
Results That Make Dentures Patients
Proud to Smile Again
"Always treated with care and kindness."
Reviews From Our Fort Walton Beach Dental Patients
Best dentist. I have been with Dr Pohl for over 20 years . I completely trust him taking care of any and all issues I have had with my teeth
View on Google
The careing, people who go above and beyond to show they truly care...never waited long for appt, always treated with care and kindness, wich marks my 22nd year with D. POHL. And staff...bringing my grand kids now.
View on Google