Missing teeth can impact your ability to eat comfortably, enunciate clearly, and smile confidently. If left untreated, tooth loss can lead to more serious complications including bone degeneration and changes to your facial structure. At our office in Fort Walton Beach, FL, Dr. Douglas Pohl can design custom dentures that renew full dental function and enhance the overall aesthetics of your smile. For added stability and support, we can also restore dental implants with implant-supported restorations.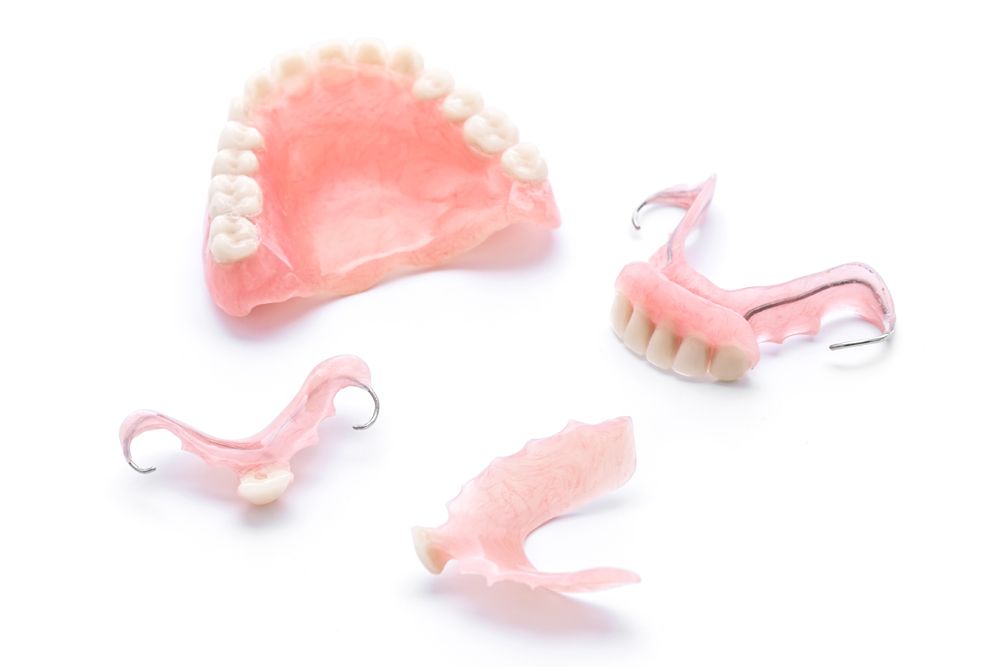 Types of Dentures We Offer
Depending upon the extent of tooth loss, we may recommend either partial or full dentures. Partial dentures are ideal for patients with several missing teeth in a row. This type of denture is typically held in place by small metal clasps, which attach to adjacent healthy teeth. Partial dentures can prevent remaining teeth from shifting and can fill gaps left by tooth loss.
Although the cost of your treatment will vary depending on the materials used and the extent of your oral health concerns, each full prosthetic arch starts at approximately $1,500.
If you are missing all of your teeth, we can provide full dentures. We can also coordinate any necessary preparatory treatments if you require tooth extraction prior to receiving your restoration. Traditional full dentures rest atop your gums and are held in place with adhesive and natural suction. Both types of dentures are made of a plastic base that closely matches the color of your gums, and porcelain teeth that mimic the shade and translucency of natural teeth.
Creating Your Custom Dentures
During your initial consultation, Dr. Pohl will assess your oral health and determine whether you require any preliminary procedures. He can then take impressions of your smile to send to an offsite lab, where your dentures will be created over the next four weeks. A patient visiting our office for dentures typically sees Dr. Pohl over the course of five appointments, which cover:
First impressions
Second impressions
Custom trays
Bite and shade
Fittings
In some cases, your dentures can be fabricated and ready for placement in as little as three weeks from your initial appointment. If you are receiving implant-supported dentures, you must first undergo dental implant surgery. After your procedure, you will continue wearing your current denture and will typically have to wait three to six months for your gums to fully heal. After healing is complete, abutments, or connector pieces, will be attached to the top of the posts. Then your dentures will be converted so that they can easily snap into place over the implants.
Long-Lasting Benefits
With proper at-home care and regular dental checkups, most patients can enjoy their restorations for up to 12 years. Although traditional prosthetics are highly durable, your gums and jawbone may change over time and your dentures may not fit as comfortably or securely as they originally had. For this reason, we recommend replacing your dentures as soon as you detect changes in your bone structure. If your dentures break but still fit well, Dr. Pohl can also perform same-day denture repair.
Cost of Dentures
Although the cost of your treatment will vary depending on the materials used and the extent of your oral health concerns, each full prosthetic arch starts at approximately $1,500. Patients receiving full upper and lower dentures can expect their new prosthetics to cost about $3,000. We can review your unique needs and provide a more detailed and accurate estimate during your private consultation.
Contact Us to Begin Treatment
Do not let missing teeth continue to impact your overall quality of life. Dr. Pohl can design dentures that complement your features and repair your smile. To find out more about the benefits of dentures or to schedule a consultation, call us at (850) 243-0800 or contact us online.