Sedation Dentistry for a Relaxed Dental Procedure
Some patients experience severe anxiety, worry, or stress when planning or undergoing dental procedures. In fact, about 16 percent of adults suffer from dental phobia, according to the National Institutes of Health (NIH). To help individuals have a more comfortable experience at our Fort Walton Beach, FL, practice, Dr. Douglas Pohl offers sedation dentistry. Dr. Pohl can administer oral conscious sedation or nitrous oxide to help patients relax, and most importantly, provide them with the dental treatments they need.
What Are the Benefits of Sedation Dentistry?
Dental phobia is more serious than anxiety. Patients with this condition may be panic-stricken at the mere thought of a dental procedure. Sedation dentistry benefits these individuals by providing relief from severe anxiety. Some patients find it difficult to sit for long periods of time, whether due to conditions such as restless leg syndrome, or others. Sedation dentistry is an effective way for these individuals to relax throughout their procedure. By allowing patients to remain still and calm, sedation dentistry can also reduce overall treatment time.
Other benefits of sedation dentistry include:
Low risk for adverse reaction
Minimal lingering side effects following the procedure (especially for nitrous oxide)
No need for injections
Relaxing and pleasant dental procedure
Patients with dental phobia may be panic-stricken at the mere thought of a dental procedure. By allowing patients to remain still and calm, sedation dentistry can help them relax and also reduce treatment time.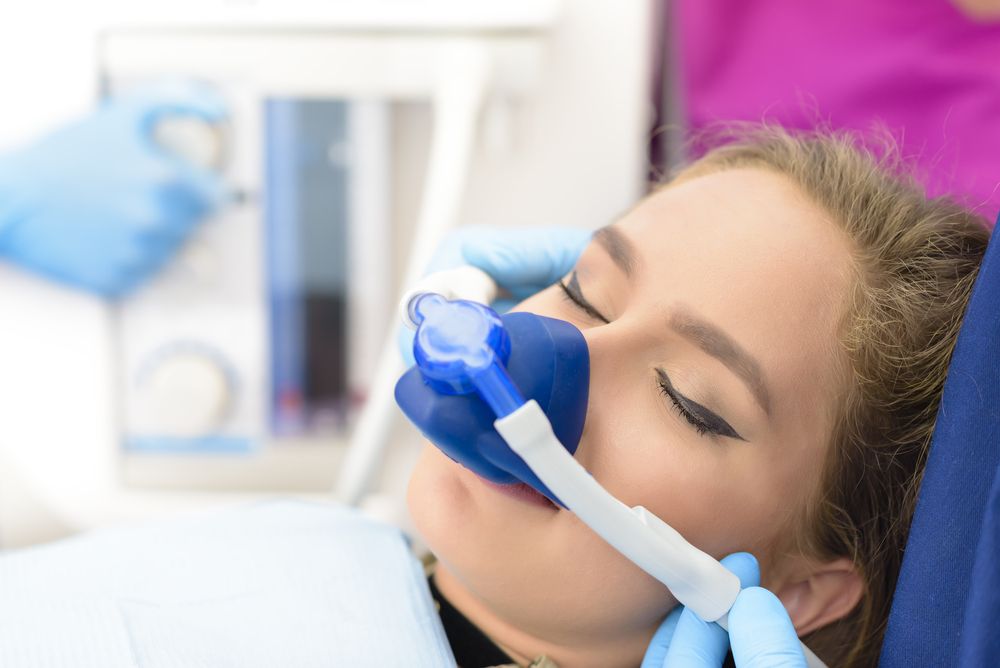 What Is Nitrous Oxide?
Nitrous oxide is commonly referred to as laughing gas, although not every patient will feel giddy under its effects. The steady stream of nitrous oxide and oxygen is administered through a tube placed near the nose. As the gas is inhaled, the mild sedative enters the bloodstream through the lungs before reaching the central nervous system and brain. Patients who undergo nitrous oxide sedation report feeling peaceful, relaxed, and euphoric. A benefit of nitrous oxide is that the effects of the gas can be felt quickly, and also wear off quickly. Dr. Pohl and his team will closely monitor the gas levels throughout your dental procedure.
What Is Oral Conscious Sedation?
Oral conscious sedation involves the administration of a sedative pill which belongs to a class of drugs known as benzodiazepines. Oral conscious sedation generally delivers stronger sedative effects than nitrous oxide, and may be recommended for more invasive procedures. Patients generally take the prescription pill before coming to our office. Under the influence of oral conscious sedation, patients are awake and able to communicate, but they are in a dream-like state that allows them to relax. The effects of oral conscious sedation can take a few hours to wear off. Therefore, patients who use this sedation option will need to have someone drive them to and from the office.
Am I a Candidate for Sedation Dentistry?
During your consultation, Dr. Pohl will ask about your medical history while determining if you have any habits or medical conditions that could complicate the use of sedation. While most of our patients are good candidates for either nitrous oxide or oral conscious sedation, he may determine that you are not a good candidate for any of the following reasons:
You are pregnant
You are allergic to benzodiazepines
You have respiratory problems (for nitrous oxide)
You consumed alcohol before your procedure
You have had an adverse reaction to nitrous oxide or oral conscious sedation in the past
Questions? Contact Our Dental Office Today
If you experience symptoms of dental phobia or have a difficult time sitting still for long periods of time, let Dr. Pohl know, as you may be a good candidate for sedation dentistry. To learn more about our sedation options or other dental services, call (850) 243-0800 or contact our office online. For the convenience of our patients our office offers financing options through CareCredit®.